OUR STORY
Better Prestige Sdn Bhd was founded in 2018 by our founder who believes in his charter "to provide quality products at lower prices while at the same time ensuring that members are continuously rewarded monetarily". Through years of tireless and thorough research, his formula has finally been refined and perfected. We believe that this formula will challenge everything that you have ever been brought up to believe and it will change your entire belief system. An implausible combination that we have just made a reality.
Our company adheres to 2 simple philosophies


Sounds complicated but this is no rocket-science… In order to offer quality products at low prices, one must achieve substantial cost-reduction in its entire supply chain. Economies of scale can be reached through mass production and bulk-buying. Significant cost-cutting can also be achieved via the complete elimination of middlemen and brokers. Since our products will only move through personal marketing channel, it will also remove the need for advertising and all other forms of above-the-line marketing expenses.

Is it possible to Earn when you Spend? With BETTER Reward Plan, It Is. In fact, this passive income can be made continuously as long as the member shares the opportunity to others by signing up 3 other members and as long as the member continues to consume the product.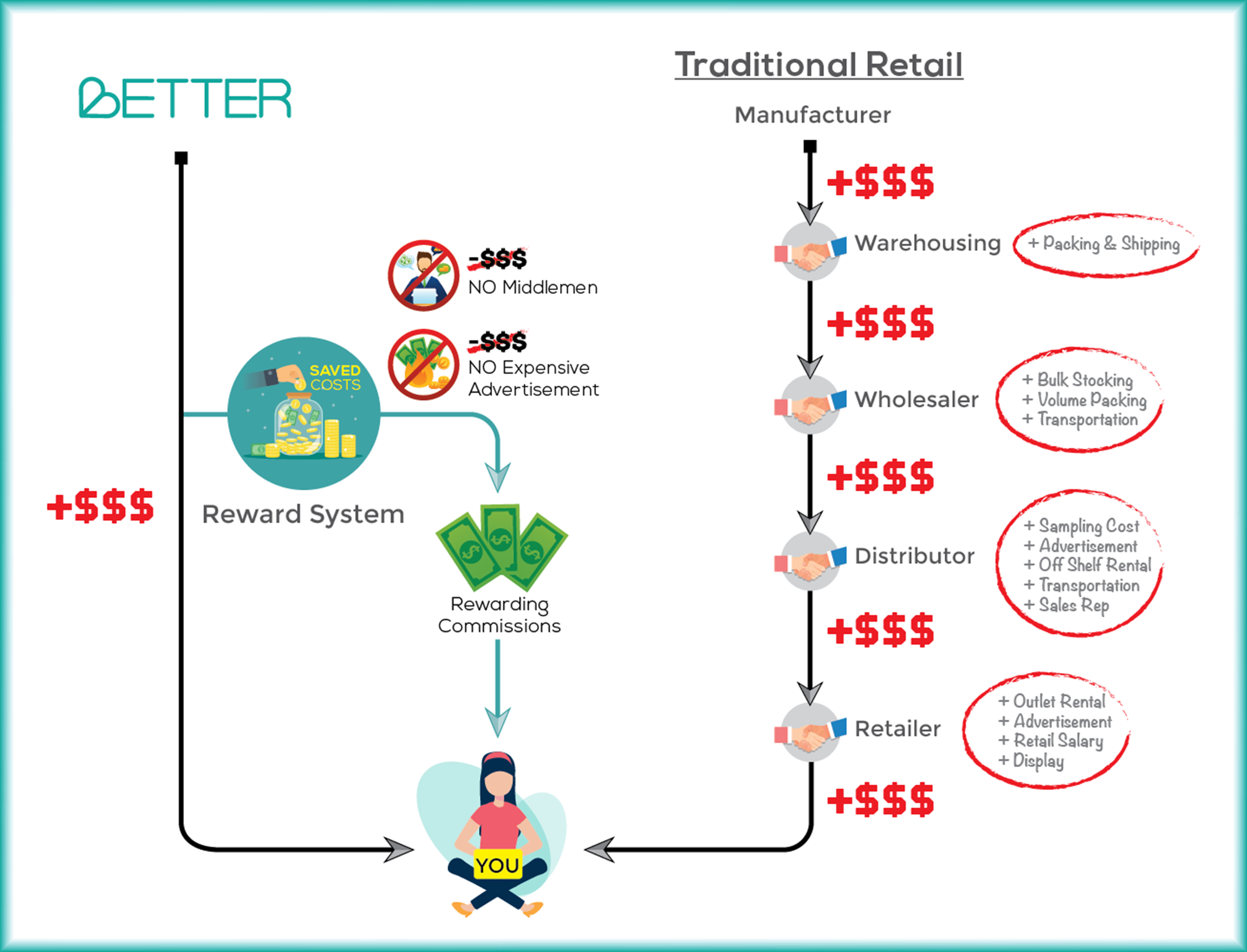 All our manufacturers are carefully selected and they must demonstarate the strictest adherence to their quality management system. Our manufacturers are required to be certified under the International Organization for Standardization (ISO) and must follow Good Manaufacturing Practice (GMP). We do not compromise on quality. Our laboratories at the same time shall continuously research for new and better products whilst ensuring that all products are safe for their intended use. On the other hand, our international sourcing team shall continue to ensure that all our products are only sourced through ethical sourcing practices.